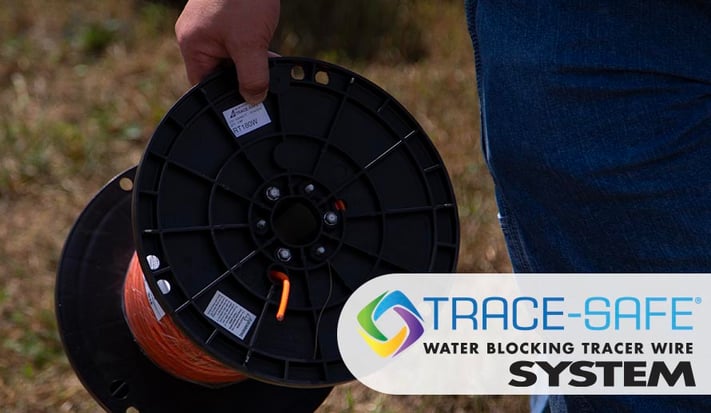 Numerous manufacturers are developing innovative devices to prevent damage that can occur to lines during civil engineering work. One such means is Trace Safe®, currently the only system for water-blocking locating wires. The heart of this innovation is a high tensile strength locatable wire with water-blocking threads. Because of simple connecting plugs, it is not necessary to remove the high-density polyethylene (HDPE) outer jacket of the locating wire. The advantages of Trace Safe lie in its strength; ease of use; lightning protection; and abrasion, compression, impact, and corrosion resistance.
The system consists of a solid copper conductor that is 0.9 mm thick and tinned for corrosion protection, an HDPE sheath, and water-blocking fibers with a tensile strength of approximately 820 kilograms that can withstand horizontal directional drilling (HDD) tensile stress; consequently, the high-strength fiber core, rather than the locating wire, absorbs and carries the tensile load.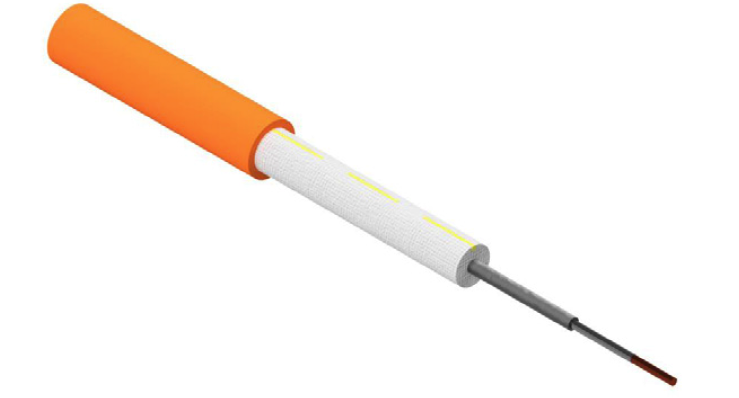 Fig. 01: Structure of the full copper conductor. [Source: CHASE / NEPTCO]
The system can be blown in or pulled in directly with the empty pipe using the HDD process. This enables the line to be located continuously. The water-blocking properties prevent corrosion of the conductor.
Related blog: Take a load off. Don't STRAIN your connection.
In addition, the small-diameter conductor improves the transmission of signals with lower frequency and allows a more precise position. Due to the reduced voltage-carrying capacity, the small conductor technology can also be used safely in lightning-intensive areas. This protects assets such as natural gas pipelines and electronic telecommunication systems.
MULETAPE®, another CHASE/NEPTCO product, is a pulling tape that simplifies the process of drawing in cables. It can be blown in and out of conduits and can also be equipped with tracking wire for temporary location.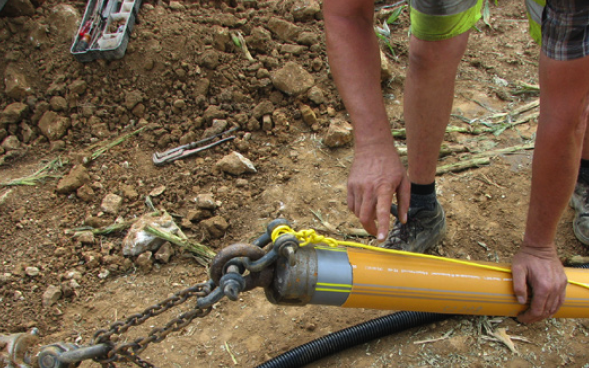 Fig. 02: Application when pulling in (HDD process) [Source: CHASE / NEPTCO]
These innovative solutions offer network operators and network companies security in locating their piping systems and can help prevent the type of costly structural damage that can easily occur in civil engineering. The system is safe; in the event of earth moving, data loss, incorrect or inaccurate documentation or data hacking, the analog location medium can always be found without causing harm. And, it works with any commercially available tracking device.
Possible applications are in gas, water, sewage and telecommunications.
The following laying techniques can be used:
Air injection into pipe systems that have already been installed
HDD -- Direct feed with the pipe during the horizontal directional drilling process, 820 kilograms tensile strength
Open trench
Plow, tiller, soil rocket
The Trace Safe® System has been used successfully in projects by Westnetz, E.ON, Bayernwerk Netz, E.DIS, for 16 bar high pressure gas line systems (PE & PA pipes) and for laying in the HDD process. Westnetz, used Trace Safe® also by blowing it into a fiber optic cable system in order to be able to locate the line safely.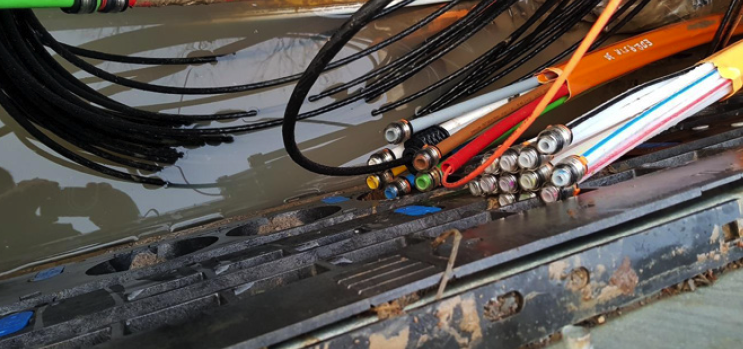 Fig. 03: air injection into a tube bundle (Telecom application) [Source: CHASE / NEPTCO]
CHASE / NEPTCO is a manufacturer and supplier of semi-finished products for multiple industrial sectors, two of which are the cable industry (tapes, foils) and the line construction industry (corrosion protection tapes). For pulling and detection, CHASE/NEPTCO provides the Trace Safe® location wire system for nonmetallic line systems.
Peter Deutschmann works for Chase Corporation, Westwood, Massachusetts, USA, and is the European sales manager for the pulling and detection unit within the Chase Group for NEPTCO Inc. Peter has been performing various functions and working in a variety of business areas for 25 years. Among his roles he was European Business Leader for NEPTCO products for the cable industry and General Manager for NEPTCO Europe in France.