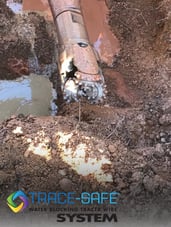 A Project Executed On The Hardest Terrain.
The Darling Ranges to the north of Perth in Western Australia is a rocky and difficult terrain to horizontally direction drill through. Special rock drilling bits are required to get through the solid granite.
The Problem:
The job called for a tracer wire to be installed along with a 110 mm HDPE pipe and pulled back 80 meters which can be a difficult pull, but to make matters more challenging the size of the borehole was only 130 mm wide. The HDPE pipe occupied 85% of the borehole meaning the tracer wire had to be squeezed in with the pipe.
The Solution: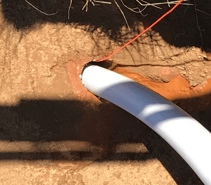 Fortunately, the tracer wire used for this job was Trace Safe, RT1800. Trace Safe is unique due to its tough construction. Ordinary wires have a breaking strength of around 220 lb., (100 kg), Trace Safe has a break strength of 1800 lb., (818 kg).
Under the outer robust HDPE jacket are polyester yarns, the same type of yarn used in radial tire cord, and it is these high tenacity yarns that absorb the stress of the pull, not the tin coated copper wire. Tough HDD applications require a tough tracer wire like Trace Safe.
Trace Safe goes a step further and the high tenacity yarns are treated with a super absorbent powder which means that if the out jacket is breached the yarn swells to prevent any water getting to the conductor.
Ideally, a bore to duct ratio would allow for at least 50% headroom, but Trace Safe is designed for tough situations like this. Its 30 mil HDPE jacket and 1800 lb. tensile strength means it has the toughness required to survive a tension pull back.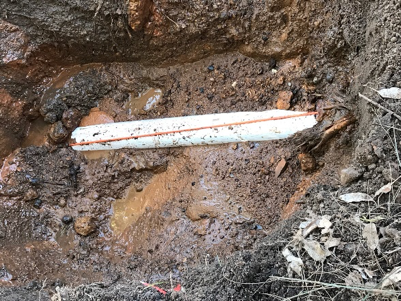 The Results:
The wire was successfully pulled back and the process took less than 20 minutes to complete. A locate clip was attached to the wire and it was easily accessed and energized by the locator.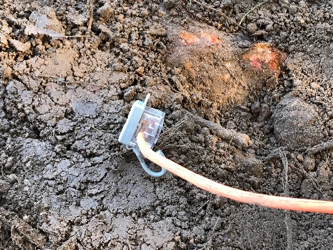 Project Location: 31.4167° S, 116.0000° E. Darling Range, Australia
Project Details: Installation of a Tracer Wire along with a 110mm HDPE pipe.
Related article: Bigger Tracer Wire Isn't Better and Here Is Why
See Trace Safe in Action!